Click on links for more info and bookings...
2016
Sunday May 8 3pm
The Memo Music Hall
90 Acland Street St Kilda
Fearless Music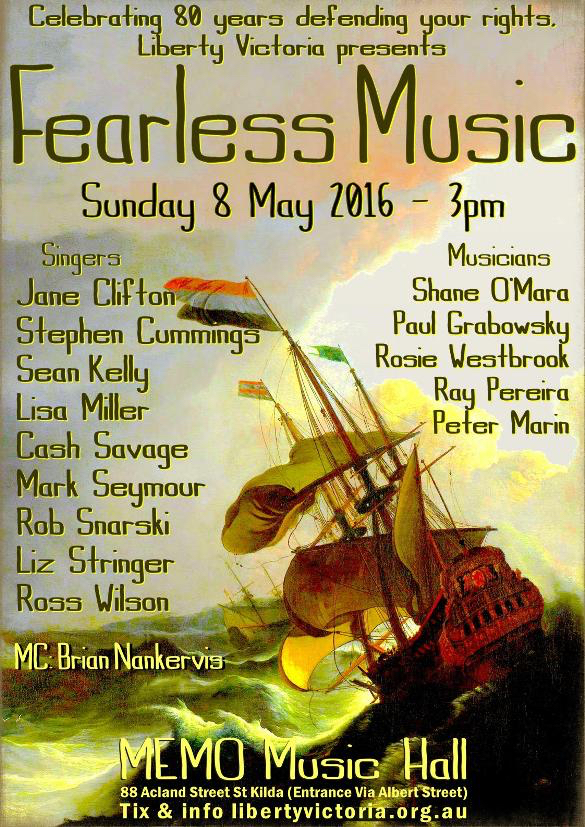 Top musicians sing and play for Liberty Victoria
FEATURING: ROSS WILSON, CASH SAVAGE, STEPHEN CUMMINGS, SEAN KELLY, MARK SEYMOUR, LIZ STRINGER, ROB SNARKSI, JANE CLIFTON & LISA MILLER
Tickets $ 45 - $65
Get your tickets NOW at www.trybooking.com/190568
Liberty Victoria, Australia's oldest human rights group, is bringing together some of Melbourne's outstanding singers and musicians for a one-off show, Fearless Music.
The show aims to support the rights Liberty Victoria says are being lost by Australians and especially by refugees.
"Society is heavily burdened by the appalling offshore refugee prisons and laws that invade so many parts of people's private lives," says Liberty president George Georgiou SC. "We are delighted to have these performers come together under the banner of Fearless Music."
The show takes its cue from the great Nina Simone, who said, "I'll tell what freedom is to me: no fear. I mean really, no fear!"
Liberty, which is about to turn 80, says society now needs to be fearless and determined in opposing the undermining of civil rights.
Fearless Music features a wide range of political, protest and freedom songs across many eras and genres written by the world's foremost fearless songwriters.
A star-studded line-up of multi - award winning, meticulously-curated vocal performers.
Public transport to the Memo Music Hall: Tram 96 all the way from Brunswick through city to Acland street. Or tram 12 down St Kilda road to Acland Street.
Tables seat a maximum of 10 people. All seating is first in, best dressed!


Wednesday May 18 8pm
Northcote Social Club
301 High Street Northcote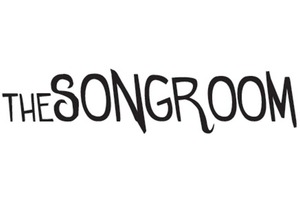 THE BASICS PRESENT 'THE SONGROOM' WITH SPECIAL GUESTS LISA MILLER & BEN SALTER
with special guest MC Jess McGuire (ex-Triple R Breakfasters)
Beginning every Wednesday in May, Tim and Kris from The Basics will be teaming up with us here at the Northcote Social Club to deliver you a fresh fixture in Melbourne's musical calendar, "The Songroom". The Songroom features Melbourne's best new and legacy talent side-by-side, performing and talking about a selection of their own songs, mixed with covers of fellow artists that they love and respect. For those of you who have attended the boys' Tinder Knight events, you'll know the go; a warm-and-fuzzy 'loungeroom' vibe where everyone can have a sing-a-long and a laugh. We're looking forward to seeing you each Wednesday in May for a revolving door of artists that should keep this new-and-exciting initiative new-and-exciting.
TICKETS $15 AT THE DOOR ONLY

Friday May 27 8pm
Saturday May 28 8pm
Sunday May 29 3pm
Bob Dylan 75th birthday salute
The Memo Music Hall
90 Acland Street St Kilda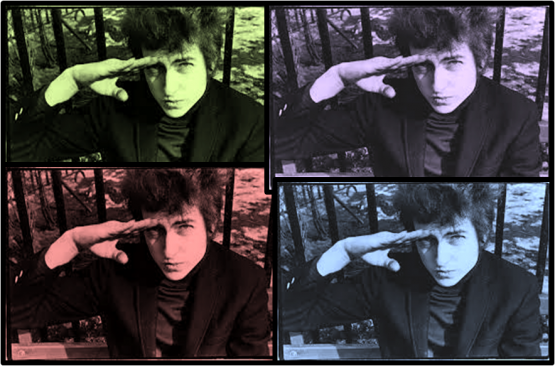 Presented by Caravan Music & Memo Music Hall, the fourth annual Bob Dylan celebration is back on Friday 27th, Saturday 28th and Sunday 29th May 2016. The cream of Melbourne's music community will come together to celebrate the 75th birthday of musical genius Bob Dylan over THREE exciting shows at MEMO Music Hall St Kilda.
Singers paying homage to Dylan include:
ANGIE HART
SIME NUGENT (Sweet Jean)
GALLIE
SUZANNAH ESPIE
LISA MILLER
REBECCA BARNARD (with Shane O'Mara)
VAN WALKER
SIMON BAILEY (Pony Face)
LUCIE THORNE
CHARLES JENKINS
Backed by an all-star band led by guitar genie Sgt. SHANE O'MARA that includes: STEPHEN HADLEY (bass), JAMES BLACK (Keys), BEN WEISNER (Drums), JEN ANDERSON (Violin), BEN FRANZ (Pedal Steel).
Doors Open 7.30pm, Showtime 8.40-11pm (with intermission)
Reserved Seats: $55.00 +bf
General Admin: $38.00 +bf
At the Door: $40.00 (if still available)
For tickets to the Friday show click here.
For tickets to the Saturday show click here.
For tickets to the Sunday show click here.


2015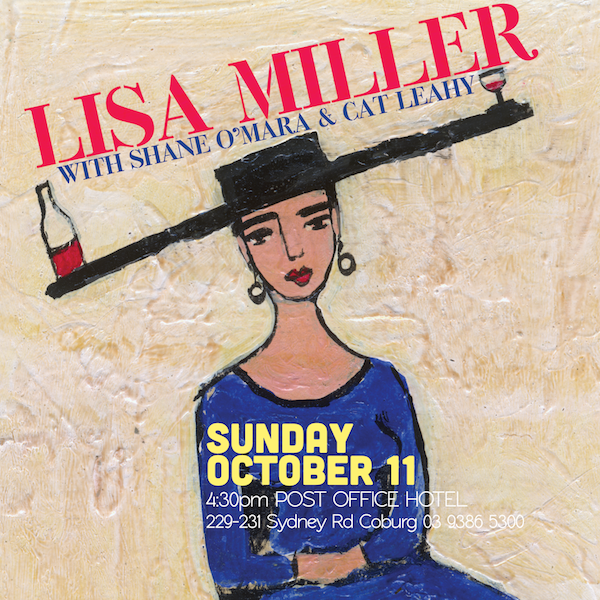 Sunday October 11 4:30pm
The Post Office Hotel
229-231 Sydney Road Coburg
Lisa Miller with Shane O'Mara & Cat Leahy
www.thepostofficehotel.com.au
Past shows: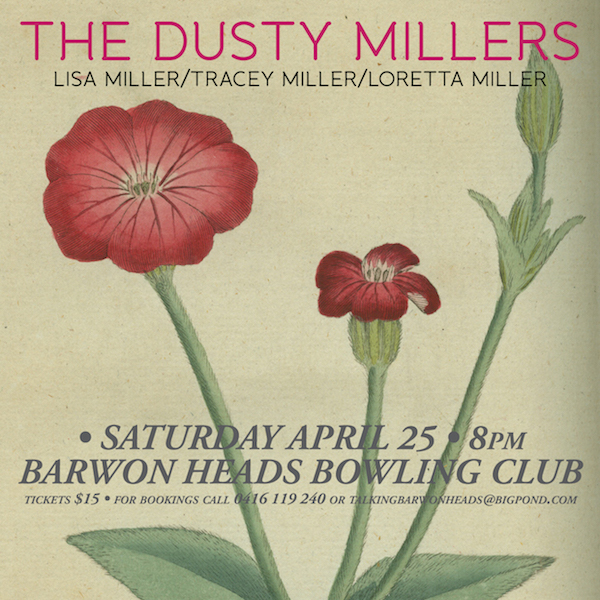 Saturday April 4 7pm
RED HILL (Mornington Penninsula)
'Music On The Hill'
Lisa Miller with Shane O'Mara
Red Hill Pavillion
Red Hill Show Grounds, 184 Arthurs Seat Road Red Hill
For info and bookings: www.musiconthehill.com.au

Friday April 10 8pm
OAKLEIGH
Caravan Club
A NIGHT OF LUCINDA WILLIAMS
FEATURING THE ALBUM 'ESSENCE'
"A collection of Melbourne's finest singers and musicians including LISA MILLER, REBECCA BARNARD, TRACY McNEIL, SHANE O'MARA & many more will be paying homage to the great American singer/songwriter - Lucinda Williams with a focus on her 2001 release "Essence". UNMISSABLE
Essence is a compelling masterpiece of wilful intimacy, occasionally haltingly sparse and subtle beautifully realised songs , a chronicle of the search for transcendence over sorrow.
Lisa, Shane, Tracy and Rebecca will be joined by Nick O'mara [guitars & vocals] Dan Lethbridge [guitar & vocals] Steve Hadley [bass] and Bree Hartley [drums] for an evening of versions and interpretations of Lucinda's amazing songs featuring her album Essence as centrepiece."
For info and bookings: http://www.caravanmusic.com.au/gigs/lucinda-williams

Saturday April 25 8pm
BARWON HEADS
Barwon Heads Bowling Club
The Dusty Millers - Lisa Miller/Tracey Miller/Loretta Miller
tickets $15, for bookings call 0416 119 240 or email talkingbarwonheads@bigpond.com

Sunday May 10 4-6pm
WEST MELBOURNE
The Drunken Poet
The Dusty Millers - Lisa Miller/Tracey Miller/Loretta Miller
65 Peel Street (right opposite Victoria Market)
tel 03 9348 9797
www.thedrunkenpoet.com.au

Sunday May 17 4-6pm
MARYKNOLL VICTORIA
"The Shed"
The Dusty Millers - Lisa Miller/Tracey Miller/Loretta Miller
Private house concert one hour east of Melbourne - call 0418 429 025 for details and booking

Thursday May 21 8pm
ST KILDA
The MEMO Music Hall
90 Acland Street St Kilda
BobFest 2015 presents Time Out Of Mind
LISA MILLER, CHARLES JENKINS, SHANE O'MARA & REBECCA BARNARD perform Bob Dylan's dark atmospheric masterpiece Time Out Of Mind
"This remarkable album reveals Dylan reflecting on isolation & distance with 11 extraordinary songs including Love Sick, Tryin To Get To Heaven and Not Dark Yet. This one off line-up combine for a special performance for BobFest 2015.
Backed by an all star band that includes Ben Franz on pedal steel, Rick Plant on bass, Cat Leahy on drums & Dan Lethbridge on guitar."
For info and bookings: www.memomusichall.com.au